WhatsApp for Business Communication
WhatsApp is being used as the main communication route by an increasing number of companies, both online and offline. While employees may readily connect through this channel, the company itself is also able to communicate with customers. It gives them a more individualized experience. Consumers today are all about fast pleasure and instant communication, and WhatsApp allows them to contact a company at any time.
It is evident that WhatsApp is being included in customer care channels, and many companies are realizing WhatsApp's potential for generating high-quality leads. In the section below, we look at how you may utilize WhatsApp to broaden your audience, draw in leads, nurture them, and close sales.
WhatsApp for Lead Generation
Using WhatsApp messenger as the main communication method, WhatsApp lead generation focuses on potential customers. This entails that you may use WhatsApp for marketing, sales, and support communications. WhatsApp enables you to provide prospects with useful information and guide them through the buying process. The objective behind this tactic is to meet potential customers where they will feel secure, in charge, and at ease. What better platform than WhatsApp, a part of our daily lives, to build a secure and individualized client and business environment?
There are three primary ways you can integrate WhatsApp into your overall lead-generation strategy, these include: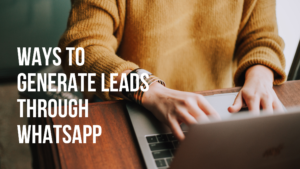 1. Using WhatsApp and Your Website for Lead Generation
In today's world, your website and WhatsApp should work together. This is because your website provides the perfect setting for generating fresh discussions with customers who are interested in your product or service. To ensure that users may message you while they are browsing your products and services, you can construct a WhatsApp chatbot or chat widget and embed it on your website.
WhatsApp now offers businesses WhatsApp links on their websites because it recognizes the power of its program. Businesses can do this by integrating click-to-chat buttons into any area of their website using an API.
This lead generation technique helps users who are actively interacting with your website, indicating that they are interested in the goods or services you are offering. By offering a WhatsApp conversation option, you may convert these visitors into leads.
2. Using WhatsApp and Social Media for Lead Generation
A great way to engage with your target audience is through social network platforms, which also give you a location to start new conversations with prospective clients. You can now include a click-to-chat WhatsApp link with all the details a potential customer needs about your business or product while publishing content for Instagram or Facebook.
A potential consumer can start a WhatsApp chat with your company through one of your social media postings, facilitating easier contact and, of course, offering more opportunities for lead generation. This strategy functions similarly to using WhatsApp on your website and enables your marketing and sales teams to gather and save pertinent lead data for use in lead nurturing and conversion activities in the future.
3. Using WhatsApp and Paid Ads for Lead Generation
This strategy entails developing sponsored web advertisements with strong Calls to Action (CTA). The call to action (CTA) should instruct the viewer to start a WhatsApp conversation with the company. When your company sells a product online that can only be purchased through your website, this tactic becomes crucial (think, eCommerce businesses).
You can reduce the sales cycle and engage with your potential customer in real time by sending them from your sponsored advertisement to your WhatsApp. This indicates that you have the conversational skills necessary to lead a potential client to take additional action or make a purchase. This strategy allows you to gather crucial lead information and guide prospects through the sales funnel, just like all of the others outlined above.
In Conclusion
We all use WhatsApp in our daily lives, so businesses should take advantage of it to generate high-quality leads. There are many methods to use WhatsApp in your lead generation campaigns, and putting these strategies into action need not be challenging.
To communicate with your current and potential customers, you can still use email and the phone. WhatsApp, however, creates a lot of new options. It helps you to transform what is typically a one-way contact into one that may be asynchronous and entirely at the convenience of the customer, encouraging customer engagement and loyalty.
Real-time data sharing and processing are possible when using WhatsApp for sales, marketing, and customer support. Additionally, it enables users to communicate without leaving their comfort zone.
To know more about lead generation using other social media platforms, please visit:
Importance of Social Media Marketing for Coaching Institutes