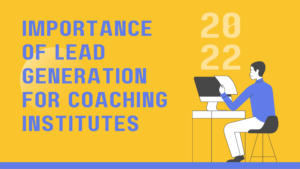 The coaching industry is not just growing in the educational sector; it is also increasing in several other industries, including yoga, fitness, sports, group interaction, personality development, video production, acting, and singing.
How to create leads for a coaching institute is a concern shared by all institutions. For a coaching institute, generating leads is a really difficult task. Having a smartphone in your hand is extremely usual today.
Targeting students is simply because they are all highly active on social media, but it can be challenging to convince them to become your students. You must first learn about their financial situation, where they live, their educational history, etc. before you can obtain a quality lead. Let's talk about some lead-generation strategies for coaching institutes.
Ideas for generating leads for the coaching industry:
1. Blogging
The phrase "blogging" wasn't well recognized in India, but now everyone is familiar with it. It has significant potential for involving parents and students. To increase traffic, you must be consistent with your blog posts.
For a blog to rank on SERP, use specific keywords. Use a range of forms, including how-to, a guide to, top, year, step-by-step, a to z, list, tutorials, tips, and tricks, among others.
There are several tools you may use to find keywords, including Google Keyword Planner, Keywordtool.io, Ubbersuggest, Questionhub, Google Trends, Semrush, Ahrefs, Quora, and Keyword Anywhere.
2. Networking
Relationships are the foundation of a successful coaching business. And nothing fosters these connections more quickly than interacting in person with potential customers. You can get to know a prospective customer well enough to explicitly inquire about if she requires assistance with her business, profession, fitness, finances, or romantic connection.
3. LinkedIn Connections
LinkedIn can work wonders for you whether you're a leadership, performance, or business coach in the B2B sector. People who might be your potential clients should receive personalized connection requests. By sending them a few helpful articles or resources, you can establish a relationship with them. Finally, request a discovery call from them.
4. Google My Business
Start by focusing on the local students in the area where your institute is located because they are likely to convert, and you can achieve this by using local SEO. Verify your business website in Google. Additionally, you can check Google Maps for a local listing that directs people to your institute.
5. Strategic Partnerships
Work with people who are already respected and trusted by your audience. Consider that you are a leadership coach who wants to work with reputable CEOs and significant businesses. Why would these businesses trust you enough to work as a coach for them? When someone they work with introduces you, trust can be developed the best and fastest.
These large businesses hire marketing consultants and other service providers. They would be delighted to introduce you when you develop strategic agreements with these service providers. And you will both profit from them if you have created the appropriate partnerships.
6. Direct engagement with leads
Your consumers will benefit more from direct contact through Live Chats, Forums, Support & Help Centers than from using FAQs, which only address generic doubts & inquiries.
7. Interviewing a potential client
Direct questioning of your client seems to be a brave and assured move. If you do a real coaching session with a client, your audience will believe that you have a deeper understanding of their concerns. Along with assisting the interviewee, you are also assisting your audience with questions and doubts that are comparable to the interviewees.
8. Facebook page/Group/Ads
Despite the availability of sites like Instagram, YouTube, etc. in India, Facebook still has a large viewership.
Facebook page: Make a page with the name of your institute on Facebook so that it can develop a brand. By regularly posting articles regarding coaching, courses, and educational stuff, you can keep your audience interested. targeted with terms like coaching for the train and banking, etc.
Facebook Group: You may create a community using Facebook groups. You can ask to be added to the group.
Facebook Ads: Because Facebook Ads have a feature that other platforms like Instagram and YouTube do not, they are a very efficient way to connect with your target audience. Because there are so many unique approaches and ways to target them, you need a Facebook ad specialist to run ads.
9. Boost social media engagement by Newsjacking
Keep yourself up to date with hot issues and current developments in your industry. And if you can, provide your thoughts about the circumstance or event. People who are curious about you will strive to find out more about you, which draws them closer to you. Such blogs and articles greatly increase the exposure of your brand. In Addition, you can also use YouTube and Quora to generate more leads for your coaching institutes.
10. Create an Ask Me Anything Page (AMA Page)
Creating threads of discussion on your website to respond to questions on your AMA page will enhance subscriber engagement and help clear up any misconceptions your prospects may have before committing.
Conclusion:
Consistency is the key. Choose the strategies that appeal to you and that you will find enjoyable so that you may practice them every day.
To know more specifically about how can other social media platforms be used to generate leads, please visit: