With the global pandemic and the consequent lockdown, digital marketing has evolved into more than simply the newest trend; it is now a vital force and technique for the existence and sustenance of every company. The same is true for coaching institutions and the education sector, both of which have experienced enormous reductions in staff and losses as a result.
The ideal method and technique for expanding your target market and overcoming the additional geographic restrictions that come with any physical coaching institute is digital marketing. Furthermore, it is crucial to realize that other institutions are offering a comparable course with a comparable level of instruction because we do not live in homogeneous markets.
Digital marketing has many advantages for coaching centers. Digital marketing is essential for lead generation, admissions advertising, and advertising campaigns on Google and Facebook at a coaching center. This marketing strategy draws a wide range of interested parties to the coaching institution. Website development, social networking, and SEO are all aspects of digital marketing.
Why should coaching institutes use digital marketing?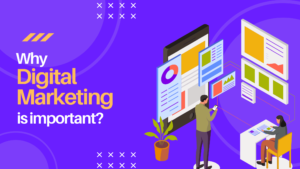 In today's environment, digital marketing is crucial in every industry. Every brand seeking to build brand awareness looked out for digital marketing agencies since they are now urgently needed.
Brands feel they are missing out and are no longer in the race if they don't advertise on internet platforms.
Due to the intense competition in this market caused by the rising need for coaching facilities, firms are now using a variety of marketing techniques to attract new clients and customers.
This marketing strategy may benefit the coaching industry as well, and many companies are already using it. This has led to an increase in digital marketing and its benefits to businesses in terms of marketing, sales, customer relationships, and growth.
Digital marketing can be used by coaching institutes as a strategy for outreach. As previously stated, there is a demand for educators, and many potential customers are searching online to learn more about what you have to offer and how you can assist them in achieving their goals.
Coaching institutes can begin to use digital marketing by establishing a website, and an account on every social media platform, making use of YouTube, adhering to social media marketing guidelines, and creating blog posts using apps like Quora, for the website using significant keywords by search engine optimization guidelines.
All of the above-mentioned will contribute to the development of a brand. The bottom line is that coaching institutes benefit from digital marketing by increasing their marketability, differentiating themselves from the competition, and building brand awareness.
How digital marketing stimulates the growth of coaching institutes:
Online interaction is a great way to interact with customers.
Your website will be highly ranked by search engines like Google, Yahoo!, and others.
It is possible to build a coaching brand online and increase the visibility of your classes.
You can improve website traffic and increase the number of applicants you recruit online.
Many requests have been made about coaching classes by top search engines.
One of the biggest benefits of digital marketing is that you may target your ideal clients.
Digital marketing is the form of advertising that is most visible.
The techniques described above are a key to excel in digital marketing.
To know more in detail about how can social media platforms be used for generating leads, please refer to: