There were a number of such businesses that established Coaching institute systems even before the global pandemic wreaked havoc in educational institutions, among others. These are all-encompassing solutions that include a number of features to ensure that operations run smoothly on any given day.
Many institutions, working from home after the coronavirus, such cooperation has become increasingly relevant. While all of the functions are important, one of the most important modules in the coaching institute system is the online fee payment system. Every Coaching institute has a crucial operation called fee collection. It's what keeps the coaching institute running, and it has to be done quickly.
The several advantages of having a good fee management system
Added security
In comparison to the traditional method of paying coaching institutes, fee collection software is more secure. They can do so in the privacy of their own homes. They can use the online fee collection system for this reason. This can only be done by individuals with the necessary credentials, making it a safer option.
When determining the fees for students, a number of factors are taken into account. It is easier for coaching institutions to manage the entire procedure with the help of a student fee portal.
Solutions tailored to your needs
Each coaching institute has hundreds of students, and the cost structure varies depending on their academic. A student fee portal correctly sets personalized payment plans for each of them. This process is error-free and simple to manage because it requires very little human intervention. It may be altered and adjusted at any moment and with little effort.
Management is simple
It's a straightforward method that aids management in maintaining order. The number of resources required to calculate, transmit, collect, and report fees are drastically reduced, making it much more manageable. This technique is beneficial not only for coaching but also for students. Making online payments has made it simple for individuals to receive and submit fees.
Accessible
The coaching fee collection system is a web-based application that may be accessed at any time and from any location. Administrators, students, upper management, and the accounting department can all log into the system remotely using their individual credentials.
Reports are easier to create
Data is maintained online, making it simple to generate reports depending on the information available. All that is required is to do a search for the data that is required at the time and receive instantaneous responses.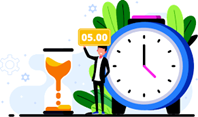 Cost-effective
It is cost-effective because it is a paperless method. Physical fee requests and, as a result, receipts are not required. You can get rid of your printers, files, and storage space because online fee payment requests and/or receipts are the way to go. One of the most prominent advantages of online fee collection is the environmentally friendly option.
Notifications are simple
The coaching fee collecting system delivers alerts to students with all the facts whenever a request for fee payment is made. It can be set up so that these are automatically despatched whenever the fee schedule requires it. If any adjustments are required, they can be made quickly by the appropriate personnel.
System of prompt payment
Students can use one of the many online payment options as soon as the notification is given to complete the transaction in a timely way. It eliminates any delays and guarantees that everything goes smoothly and securely.
Exampeer is an Ed-Tech Company that has helped 2000+ Institutes across 20+ States of the Country. To know more about, how we can help you grow your Institute, call us today on 89290 89285.